Mental Health Treatment Works!
The Center does not conduct extensive outcome research. That would require resources beyond our means. However, we do try to measure the impact of our work by simply asking our clients on a regular basis how they have benefitted from treatment. Over 90% of our clients tell us that the problem or condition that led them to seek help has improved or greatly improved after a period of treatment. Mental Health Treatment Works!


Client Satisfaction
Over 95% of our clients report that they are satisfied or very satisfied with their experience at the agency and would refer a friend or family member to the Center. Many of them do! We also receive many referrals from local doctors, hospitals, schools, police, and community service providers.


Client Comments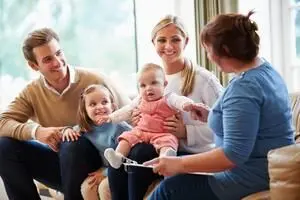 I am very pleased with everyone. The help I received from the staff at this Center is wonderful and has helped me to not get overwhelmed. I don't know where I would today be without their help.

I am very happy that I found Family Service because it has been a great help for my son and me. I thank my therapist for his patience and all his help.

T hank you so much for your help with my daughter. Everything has been really great. You have helped my daughter to see how she needs to be more responsible for her actions and her character.

I am very satisfied with this Center. My son and I are learning new ways to solve our problems. I thank our therapist for all the support and help. God bless all the people that work here.

I am very satisfied with my therapist. She has given me a lot of wonderful support and has helped me make progress. I am very comfortable with her.

I have referred several people to Cicero Family Service as a result of my most positive experience there.

My therapist was understanding and very helpful. I've learned to overcome my anxiety and deal with my problems. I'm more positive now.

I would like to thank you for all your support. I am very happy as I have seen a big change in my daughter. Thank you very much for your help .

I h ave a wonderful counselor. I am very happy to have her as my child's therapist. She is really great with children and I am glad to be working with her.

Very professional, efficient and knowledgeable therapists. Nothing needs improvement. My therapist is outstanding. I wouldn't seek help anywhere else.

Everything is done very well. If a family member would need services in the future, I would not hesitate to recommend them to Cicero Family Service.

The ability to be sympathetic is something I value. Thank you for being there for the most difficult times.